01.06.2011 | Original Contribution | Ausgabe 8/2011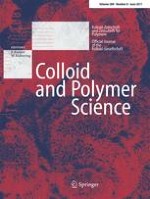 Micelle formation of polystyrene-
block

-poly(4-

tert

-butoxystyrene) in hexane
Zeitschrift:
Autoren:

Eri Yoshida, Tomoyuki Ema
Abstract
A new type of hexane-soluble polymeric surfactant based on poly(4-
tert
-butoxystyrene) (P
t
BSt) was prepared by the nitroxide-mediated living radical polymerization, and their self-assemblies in hexane were explored. Polystyrene-
block
-P
t
BSt diblock copolymers with six different P
t
BSt block lengths were obtained by the sequential living radical polymerization of styrene followed by 4-
tert
-butoxystyrene using 4-methoxy-2,2,6,6-tetramethylpiperidine-1-oxyl as the mediator; Mn(P
t
BSt block) = 13,500, 21,700, 26,600, 47,500, 91,300, and 108,000 at the constant length of the PSt block (Mn = 12,900). Dynamic light-scattering studies demonstrated that the copolymers self-assembled into monodispersed spherical micelles in hexane. The hydrodynamic diameter of the micelles increased with an increase in the P
t
BSt block length. The micellar size also increased as the copolymer concentration increased. However, the size decreased as a result of the increasing temperature due to a decrease in the aggregation number. The
1
H NMR analysis confirmed that the copolymers formed micelles with PSt cores.