22.04.2017 | Ausgabe 11-12/2017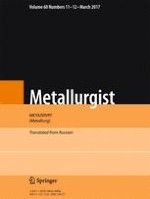 Micro- and Nanostructural Nonuniformity Through the Thickness of 100 mm Structural Steel Plate After TMT and HT
Zeitschrift:
Autoren:

E. A. Goli-Oglu, A. A. Kichkina
Wichtige Hinweise
Translated from Metallurg, No. 11, pp. 54–60, November, 2016.
Traditionally high strength (σy ≥ 400 N/mm2) rolled sheet thicker than 50–60 mm of low-carbon structural steel is produced by hot rolling technology followed by normalizing or hardening and tempering. Contemporary equipment makes it possible to produce rolled product 50–140 mm thick of low carbon steel by thermomechanical rolling and to obtain a required set of properties without expenditure on production operations connected with additional metal heating such as normalizing and tempering. Results are given in this article for studying one of the thick sheet property indices, i.e., structure nonuniformity through plate thickness. The microstructure is compared for rolled sheet 100 mm thick of low-carbon microalloyed steel structural steel produced in the 4200 NLMK Dansteel mill by thermomechanical rolling technology (TMT) with the microstructure obtained as a result of hot rolling followed by normalizing (HT). Grain sizes are determined at different points of rolled product layer thickness, and histograms are plotted for their distribution, making it possible to compare the degree of inhomogeneity for the microstructure with respect to grain size. The type, size, and density of carbonitride particles are determined at distances of 1/2 and 1/4 through the thickness of 100 mm plate after TMT and HT.