2019 | OriginalPaper | Buchkapitel
Micro-Blog Marketing of Luxury Consumption: The Role of Micro-Blog Contents and Envy in Purchase Intention: An Abstract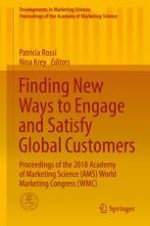 Erstes Kapitel lesen
Autoren: Wendy H. C. Chou, Byoungho Jin
Abstract
Microblogs, or short blogs, are a social media channel commonly used by fashion brands, and luxury brands are no exception (Kim and Ko 2012). Luxury firms are utilizing microblogs and bloggers to promote their products and connect with their customers (Straker and Wrigley 2016). This new trend has led to increasing interest in studying how microblogs can be utilized effectively within luxury marketing. In this study, the emotions consumers experience as a result of microblogs were regarded as key for effective management for luxury fashion brands. In particular, envy, an emotion often associated with interpersonal comparisons, was examined because it relates to both luxury consumption (Belk 2011; D'Arms and Kerr 2008) and social media (Chou and Edge 2012).
This experiment study investigated the following questions in the context of luxury brand microblogs: (1) How does microblog content trigger envy? (2) Do these feelings of envy influence consumer purchase intentions? (3) If so, does envy mediate the relationship between microblog content and purchase intention? This study focused specifically on two features that are among the most prominent to viewers: the race of the blogger and the featured brand image. By using both self-congruity theory and social comparison theory, six hypotheses were developed.
Responses from a total of 141 female participants aged 18 years and older were collected through MTurk. Findings revealed a high level of racial congruence between respondents and bloggers elicited envy (H1). However, there were no significant differences in envy between high and low congruence level of respondent self-image and brand image (H2). It was found that envy elicited from congruence between respondent and blogger race increased purchase intention of luxury handbags (H3a). Similarly, envy from congruence between respondents' self-image and brand image also predicted purchase intention (H3b). Furthermore, envy served as a partial mediator for congruence levels in blogger race and purchase intention (H4a), but it did not mediate for such relationship in brand image (H4b).
The study revealed envy's role in microblog marketing strategies for luxury brands, which concludes that luxury brand managers should utilize envy to its fullest potential in the context of microblogs. In terms of theoretical implications, this study addresses the research gap regarding the role of emotions in luxury brand microblogs. New knowledge of envy's role in increasing purchase intentions through microblogs can advance understanding of fashion blog strategies and how they relate to brand marketing.
References Available Upon Request