2005 | OriginalPaper | Buchkapitel
Micro/Nanotribology and Micro/Nanomechanics of Magnetic Storage Devices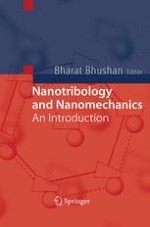 Erstes Kapitel lesen
Autor: Bharat Bhushan
Verlag: Springer Berlin Heidelberg
A magnetic recording process involves relative motion between a magnetic medium (tape or disk) against a stationary or rotating read/write magnetic head. For ever-increasing, high areal recording density, the linear flux density (number of flux reversals per unit distance) and the track density (number of tracks per unit distance) should be as high as possible. The size of a single bit dimension for current devices is typically less than 1000 nm
2
. This dimension places stringent restrictions on the defect size present on the head and medium surfaces.
Reproduced (read-back) magnetic signal amplitude decreases with a decrease in the recording wavelength and/or the track width. The signal loss results from the magnetic coating thickness, read gap length, and head-to-medium spacing (clearance or flying height). It is known that the signal loss as a result of spacing can be reduced exponentially by reducing the separation between the head and the medium. The need for increasingly higher recording densities requires that surfaces be as smooth as possible and the flying height (physical separation or clearance between a head and a medium) be as low as possible. The ultimate objective is to run two surfaces in contact (with practically zero physical separation) if the tribological issues can be resolved. Smooth surfaces in near contact lead to an increase in adhesion, friction, and interface temperatures, and closer flying heights lead to occasional rubbing of high asperities and increased wear. Friction and wear issues are resolved by appropriate selection of interface materials and lubricants, by controlling the dynamics of the head and medium, and the environment. A fundamental understanding of the tribology (friction, wear, and lubrication) of the magnetic head/medium interface, both on macro- and micro/nanoscales, becomes crucial for the continued growth of this more than $ 60 billion a year magnetic storage industry.
In this chapter, initially, the general operation of drives and the construction and materials used in magnetic head and medium components are described. Then the micro/nanotribological and micro/nanomechanics studies including surface roughness, friction, adhesion, scratching, wear, indentation, and lubrication relevant to magnetic storage devices are presented.