2017 | OriginalPaper | Buchkapitel
Micro to Macro Evolutionary Modeling: On the Economics of Self Organization of Dynamic Markets by Ignorant Actors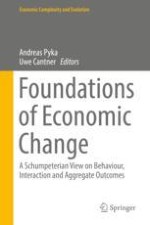 Erstes Kapitel lesen
Autor: Gunnar Eliasson
Abstract
The Micro to Macro model MOSES, for Model of the Swedish Economic System, is presented as a synthesis of Austrian/Schumpeterian and Swedish/Stockholm school economics. That connection unfortunately failed to be achieved at the time, as Swedish economists abandoned their ambition to take their Ex ante Ex post analysis down to the micro level for neoclassical static equilibrium economics, and therefore also failed to establish a Swedish platform for evolutionary economics. I argue that evolutionary models have to be micro based to make sense as driven by entrepreneurial competition and selection among autonomous market agents, be economy wide as an economic system, and should feature
endogenous evolutions of firm populations
, a complex dynamic that makes the model unsolvable for a market clearing equilibrium. The initial state dependency of such highly non linear selection models furthermore makes them unavoidably empirical. Since empirical models are always related to a case economy, the Moses model has been drawn up within the general theoretical framework of what I call an
Experimentally Organized Economy
(EOE), and applied to the Swedish economy. The estimation/calibration problems associated with such models are addressed, and the empirical credibility of the
surprise economics
that they generate discussed.
Entrepreneurial entry drives competition and growth of the Micro to Macro model economy through a Schumpeterian type Creative Destruction process, that however also endogenously both raises the rate of exit, changes the population of actors, and lowers (because of the consequent structural change) the reliability of market price signaling as predictors of future prices. Simulation experiments suggest that
an optimal growth maximizing rate of firm turnover exits
.
When MOSES is deprived of its micro based evolutionary features and firms are aggregated to sectors a traditional computable general equilibrium (CGE) sector model is shown to emerge as a special case. The static equilibrium properties of that model, however, are incompatible with the operating domain of the dynamic MOSES model, and
a neoclassical capital market equilibrium comes out as an undesirable state to aim policies for.
I conclude by demonstrating that the Wicksellian Cumulative Process can be nicely fitted into the Micro to Macro model.