2020 | OriginalPaper | Buchkapitel
5. Microalgae Production in Fresh Market Wastewater and Its Utilization as a Protein Substitute in Formulated Fish Feed for
Oreochromis

Spp.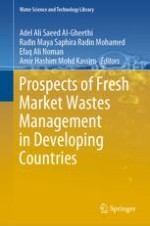 Erstes Kapitel lesen
Autoren: Nur Diyana Hairuddin, Balkis A. Talip, Neo Zhi Zing, Radin Maya Saphira Radin Mohamed, Adel Ali Saeed Al-Gheethi, Norhayati Muhammad, Norazlin Abdullah, Ernna Erynna Mohd Kahar, Shakila Abdullah
Abstract
Rapid growing of human population has led to increasing demand of aquaculture production.
Oreochromis niloticus
or known as tilapia is one of the most globally cultured freshwater fish due to its great adaptation towards extreme environment. Besides, farming of tilapia not only involves small scales farming for local consumption but also larger scales for international market which contributes to a foreign currency earning. Extensive use of fishmeal as feed for fish and for other animals indirectly caused an increasing depletion of the natural resource and may consequently cause economic and environmental unstable. Microalgae biomass seems to be a promising feedstock in aquaculture industry. It can be used for many purposes such as live food for fish larvae and dried microalgae to substitute protein material in fish feed. The microalgae replacement in fish feed formulation as protein alternative seem potentially beneficial for long term aqua-business sustainability. The present chapter discussed the potential of microalgae as an alternative nutrition in fish feed formulations, specifically Tilapia.