16.03.2019 | Brief Communication: Sol–gel and hybrid materials for biological and health (medical) applications | Ausgabe 2/2019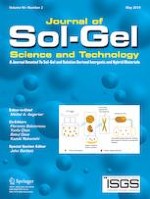 Microfluidic fabrication of robust konjac glucomannan-based microfiber scaffolds with high antioxidant performance
Zeitschrift:
Autoren:

Yongsheng Ni, Wanmei Lin, Ruo-Jun Mu, Lin Wang, Xinyue Zhang, Chunhua Wu, Jie Pang
Wichtige Hinweise
These authors contributed equally: Yongsheng Ni, Wanmei Lin
Abstract
The exploration of high-performance biological scaffolds with antioxidant properties and microstructures is of great scientific and technological interest. Here, we develop a facile and green strategy to construct robust konjac glucomannan/polyvinylpyrrolidone (KGM/PVP) microfiber scaffolds via microfluidic spinning technology. Epigallocatechin-3-gallate (EGCG) as a representative natural antioxidant was then loaded into the microfiber scaffolds. Then characterizations were done by scanning electron microscopy, Fourier transform-infrared spectra, IR images, X-ray diffraction, and thermogravimetric analysis, along with antioxidant characterization. The as-prepared microfiber scaffolds (the average width of the microfibers is 1 ± 0.1 μm) are of high order, transparency, thermostability, and excellent antioxidant activity (43% DPPH radical scavenging activity and 0.61 reducing force), conferring highly potential applications in wound dressing and contact lenses.
×