01.08.2015 | Ausgabe 8/2015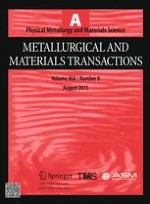 Microheterogeneous Structure of Local Melted Zones in the Process of Explosive Welding
Zeitschrift:
Autoren:

Bella A. Greenberg, Mikhail A. Ivanov, Alexei V. Inozemtsev, Alexander M. Patselov, Mark S. Pushkin, Alisa M. Vlasova
Wichtige Hinweise
Manuscript submitted January 29, 2015.
Abstract
The dispersed structures formed in the process of explosive welding and solidification after melting were investigated in areas near the interface. It was shown that melting can be initiated by particles flying away as a result of granulating fragmentation. This is the fastest process during explosive welding, which is similar to fragmentation in conventional explosions with the formation of fragments but occurring in the presence of a barrier. The reaction between the particles and their environment may lead to local heating sufficient for melting. This is confirmed by the observation of numerous particles of the refractory phase within the local melted zones. In the absence of mutual solubility of the initial phases, the solidified local melted zones are to a certain extent analogous to colloidal solutions of immiscible liquids. Correlations between the typical temperatures were obtained that determine the conditions for the formation of various types of colloidal solutions.