2018 | OriginalPaper | Buchkapitel Open Access
Microplastic-Associated Biofilms: A Comparison of Freshwater and Marine Environments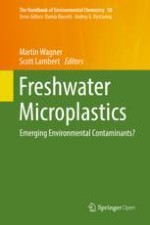 Autoren: Jesse P. Harrison, Timothy J. Hoellein, Melanie Sapp, Alexander S. Tagg, Yon Ju-Nam, Jesús J. Ojeda
1

Introduction

Microplastics (particles with an upper size limit of <5 mm) are globally distributed within aquatic environments, with up to 51 trillion pieces estimated to float at sea alone [

1

,

2

]. They are encountered within the water column and sediments, with the latter functioning as a sink for the accumulation of plastic waste [

3

–

5

]. Most plastic litter originates from land-based activities, with wastewater treatment plant (WWTP) and inland waters comprising an important route through which this pollution reaches marine environments [

6

,

7

]. While a substantial proportion of microplastic is likely to become sequestered within freshwaters, the amount of plastic entering the sea is predicted to increase by an order of magnitude by 2025 (corresponding to an input of up to 250 million metric tons) [

7

]. Legislation for phasing out microplastics in cosmetic products (e.g., the Microbead-Free Waters Act of 2015 in the USA) can be expected to achieve only a limited reduction in the quantity of environmental plastic debris.

A growing body of research has investigated the impacts of microplastics on biota, which may involve direct and indirect processes (e.g., physical blockage caused by ingested particles, as well as their ability to transport harmful compounds, pathogens, and algae) [

2

,

8

–

10

]. Even so, little is known about the ecological effects of microplastics within freshwaters [

10

]. For example, while microplastic-associated microbial (bacterial, archaeal, and picoeukaryotic) assemblages are likely to profoundly influence the distribution, impacts, and fate of these pollutants, research into this topic has focused on marine environments [

11

–

13

]. In streams and other habitats, biofilms

1

are primary sites for carbon and nutrient transformations and form the base of food webs, contributing to local and global ecosystem functioning [

14

]. As they are also essential to pollutant biodegradation, an improved knowledge of microbial-microplastic interactions is required to predict the environmental impacts of plastic debris [

15

]. Investigating this topic could inform the development of solutions to manage plastic pollution by determining how it affects processes including microbially mediated primary production and interactions between plastic-associated ("plastisphere") taxa and other organisms [

11

,

12

,

16

,

17

]. It could also lead to insights concerning the biodegradability of plastic litter and facilitate the development of new approaches to plastic disposal and/or recycling [

18

].

Freshwater and marine habitats share a number of features, but there are also differences between them that may affect the development and activities of plastisphere consortia. To facilitate investigation of this topic, findings based on marine plastisphere research are compared with those available for freshwaters. Following an assessment of recent discoveries concerning the formation and distribution of plastic-associated biofilms, our knowledge concerning their ecological roles and ability to drive processes including polymer biodegradation is considered. Finally, some of the main knowledge gaps in plastisphere research are discussed and used to highlight methodological advances in microbial ecology that could be used to improve our understanding of microbial-microplastic interactions.
2

Freshwater Plastisphere Assemblages: State of the Science
2.1

Factors Contributing to Biofilm Formation and Composition
2.2

Examples of Microbial-Microplastic Interactions in Freshwater Habitats
2.3

Potential for Pathogenesis, Toxicant Transfer, and Biodegradation
2.3.1

Microplastics as Vectors for Pathogen Transfer and Biotoxins

Gene sequencing analyses initially highlighted how microplastics may function as vectors for the transport of potential pathogens including

Vibrio

and

Arcobacter

spp. [21, 30, 45, 48, 53

]

. A high proportion of 16S rDNA reads (24%) could be attributed to

Vibrio

spp. detected on PP and, to a lesser extent, on polyethylene (PE) collected at a station in North Atlantic waters [

48

]. Unfortunately, the widely used bacterial metabarcoding technique based on sequencing fragments of the 16S rRNA gene is limited in its ability to provide the required taxonomic resolution for detecting human pathogens [

53

]. Using oligotyping of 16S rRNA gene data, Schmidt et al. [

54

] obtained more specific results for taxa within the genus

Vibrio

indicating the presence of potential pathogens affecting animals including fishes, corals, and bivalves in marine or mixed saline plastic samples. The presence of pathogens on plastics sampled from seawater was also implied by increased abundances of genes involved in type IV and type VI secretion systems [

49

]. However, genes involved in these systems can be involved not only in virulence and infection [

55

] but also in conjugation [

56

] and interbacterial interactions [

57

] that are important in biofilms [

58

].

Vibrio

spp. were additionally isolated from plastic collected from a Scottish beach [

59

], but no further characterization of the isolates was performed. Only recently was the presence of

Vibrio

spp. on marine plastics conclusively confirmed by matrix-assisted laser desorption/ionization time-of-flight mass spectrometry (MALDI-ToF MS) [

60

]. In their study, Kirstein et al. [

60

] identified

V. parahaemolyticus

,

V. fluviales

, and

V. alginolyticus

on microplastics from the North Sea. Apart from

V. alginolyticus

, these species were also found on plastics collected in the brackish Baltic Sea. In addition to bacteria, microplastics may transport microbial eukaryotes involved in disease transmission [

12

]. Potentially harmful algae, including

Ostreopsis

and

Coolia

spp., have been discovered on plastic in the Mediterranean Sea [

61

]. To date, the only in situ evidence for microplastic-associated pathogens in unmanaged freshwaters identified an increase in

Campylobacteraceae

attached to microplastics sourced from an urban river [

45

]. Specifically, 16S rRNA gene sequences related to

Arcobacter

and

Pseudomonas

spp. were enriched on plastic in comparison with other suspended matter and the surrounding water.

In summary, current evidence indicates an important role of microplastics as vectors for opportunistic animal and human pathogens. Methodological advances are required to reliably detect viable pathogenic species, so that realistic distribution patterns can be obtained and potential sources can be identified. This is particularly relevant with regard to waters used for recreational [

13

] but also for industrial purposes such as aquaculture. Relative abundances of

Aeromonas

spp. (a genus harboring fish pathogens) were increased on riverine plastics [

45

], implying that such species could take advantage of microplastics as vectors. This possibility is reinforced by the presence of

Aeromonas salmonicida

, causing furunculosis in hatcheries, on several plastic types [

62

]. Recently, 16S rRNA gene sequences affiliated to

Tenacibaculum

spp. (another genus including fish pathogens) were detected on PET in seawater [

42

]. Research has only started to shed light on this issue, as well as the ability of polymers to transport biologically produced toxins.
2.3.2

Biodegradation and Pollutant Transport

Several reviews of research into plastic biodegradation have been published (e.g., see [

11

–

13

,

24

,

63

–

65

]). Therefore, only a brief overview of this topic is provided. Plastic biodegradation involves several steps during which the polymer is enzymatically cleaved into oligomers and monomers that can be assimilated by microorganisms [

65

]. Many microbial taxa can degrade biopolymers

2

including polyhydroxybutyrate (PHB) and polyhydroxybutyrate-polyhydroxyvalerate (PHBV). The biodegradation rates of biopolymers in freshwater have been found to exceed those in marine environments, and higher rates have also been observed in sewage than within natural freshwaters [

63

,

66

,

67

]. Even so, these materials can still persist for considerable periods of time in freshwaters, with a lifespan of ~10 years having been estimated for PHBV bottles deposited onto lake sediments at a depth of 85 m [

68

].

In comparison with biopolymers, traditional plastics (such as PE, PET, and PP) will persist for even longer within aquatic environments (decades or centuries; [

11

,

63

,

64

]), with biodegradation typically preceded by abiotic weathering [

24

,

65

]. Although it has been unclear whether plastisphere members can biodegrade conventional plastics [

11

,

69

,

70

], a bacterial strain isolated from sediment near a Japanese bottle recycling facility (

Ideonella sakaiensis

) was recently found to assimilate PET [

18

]. The strain was shown to employ two enzymes to degrade PET at a daily rate of 0.13 mg cm

−2

when incubated at 30°C [

18

]. This finding implies that other synthetic plastic-degrading taxa are likely to be present within aquatic environments. Indeed, colonization of plastics by potentially hydrocarbonoclastic bacteria has been observed in both marine and freshwater habitats [

21

,

45

,

47

–

49

]. However, due to a lack of research into plastisphere physiology, the long residence times of plastic waste, and the ability of polymers to adsorb polyaromatic hydrocarbons [

11

,

12

], the mechanisms underlying recruitment of hydrocarbon degraders on microplastics are unknown. These and other taxa could mediate desorption and/or degradation of several plastic-associated compounds, including additives and diverse pollutants, with implications for the ecological impacts of microplastics. Indeed, Bryant et al. [

49

] already reported the presence of diverse xenobiotic degradation genes in association with marine plastic debris. Since organic contaminants and metals rapidly partition into biofilms [

71

,

72

], plastisphere communities may alternatively be hypothesized to facilitate transport of pollutants between ecosystems and to biota (Sect.

3.2

).
3

Knowledge Gaps and Research Needs
4

Concluding Remarks

Over the past 5 years, several studies have improved our understanding of the taxonomy and potential activities of microbial consortia associated with microplastic particles in the environment. Due to most of these studies focusing on marine ecosystems, there remains a particular lack of information concerning plastisphere assemblages within freshwaters. However, as highlighted in this chapter, many of the fundamental processes that underpin the formation and activities of plastic-colonizing biofilms remain poorly understood within both freshwater and marine environments. Establishing an understanding of the implications of microplastic-associated microorganisms for ecosystem and human health, therefore, will require research spanning the entire diversity of environments encountered by these pollutants following their release by industrial and domestic activities.
Acknowledgments
We thank Buck Hanson, Toby Samuels, and William Southwell-Wright for their feedback and helpful suggestions.
Open Access This chapter is licensed under the terms of the Creative Commons Attribution 4.0 International License (http://creativecommons.org/licenses/by/4.0/), which permits use, sharing, adaptation, distribution and reproduction in any medium or format, as long as you give appropriate credit to the original author(s) and the source, provide a link to the Creative Commons license and indicate if changes were made. The images or other third party material in this book are included in the book's Creative Commons license, unless indicated otherwise in a credit line to the material. If material is not included in the book's Creative Commons license and your intended use is not permitted by statutory regulation or exceeds the permitted use, you will need to obtain permission directly from the copyright holder.