01.06.2015 | Ausgabe 6/2015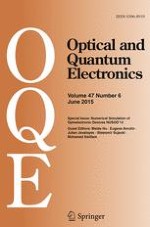 Microscopic simulation of hot electron transport in III-N light-emitting diodes
Zeitschrift:
Autoren:

Toufik Sadi, Pyry Kivisaari, Jani Oksanen, Jukka Tulkki
Abstract
This work is a microscopic investigation of electron transport in III-N multi-quantum well (MQW) light-emitting diodes (LEDs) with an electron blocking layer (EBL). By using the Monte Carlo device simulation method, we demonstrate that at strong injection conditions Auger recombination in the QWs creates a significant population of hot electrons in the upper valleys of the conduction band. Many of these electrons cross the EBL and reach the
\(p\)
-contact located 250 nm away from the MQW region. Our results show a correlation between Auger electron emission at the
\(p\)
-contact and the reduction in the external quantum efficiency of the EBL-LED structure. This observation is in line with the hypothesis by Iveland et al. (Phys Rev Lett 110:177406,
2013
) that electrons excited by Auger recombination in the active region can reach the device surface and be observed by electron emission spectroscopy.