01.04.2015 | Symposium: High Entropy Alloys II | Ausgabe 4/2015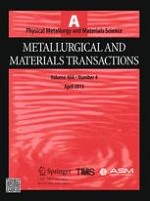 Microsegregation in and Phase Stability of As-Cast Ti-Zr-Hf-Ni-Pd-Pt High-Entropy Alloys
Zeitschrift:
Autoren:

Yoshihiko Yokoyama, Shun Itoh, Yoshihiro Murakami, Issei Narita, Gongyao Wang, Peter K. Liaw
Wichtige Hinweise
Manuscript submitted April 27, 2014.
Abstract
Microsegregation in as-cast Ti-Zr-Hf-Ni-Pd-Pt high-entropy alloys (HEAs) was examined by scanning electron microscopy and transmission electron microscopy. The structure of the microsegregated HEAs was composed of dendrite grains and grain boundaries. Since Hf, Zr, and Pt show both high melting temperatures and large negative mixing enthalpy, microsegregation on a micrometer scale occurred easily, similar to the spontaneous inoculation during solidification of copper-mold casts. In contrast, the grain boundaries were identified as being Ti- and Ni-enriched regions. Macroscopic X-ray data showed the combination of a distinct body-centered-cubic structure and broad halo peaks (amorphous structure). Microstructure analysis revealed that heteroamorphous and nanocrystalline regions are observed when the Ti group:Ni group molar ratio was 50/50. This unique microsegregated structure resulted in an ultimate compression strength of more than 2 GPa.