01.09.2014 | Original Paper | Ausgabe 3/2014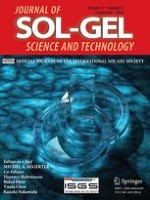 Microstructural and optical characterizations of sol–gel based antimony doped indium oxide coatings on glass
Zeitschrift:
Autoren:

S. S. Ghosh, S. Neogi, P. K. Biswas
Wichtige Hinweise
P. K. Biswas formerly Chief Scientist, CSIR‐CGCRI, Kolkata-700 032, India.
P. K. Biswas: major work was executed at CSIR-CGCRI, India in collaboration with the School of Energy Studies, Jadavpur University, Kolkata-700 032, India.
Abstract
Thin films of antimony doped indium oxide on glass has been developed by sol–gel dipping process. Four different Sb: In atomic ratios, 1:99, 4:96, 7:93, 10:90 were selected for the precursors. Pressure flow curve of the precursors were Newtonian which apparently developed homogeneous films baking at 500 °C in air. The EDS study restricted to the study of the films of only two Sb: In atomic ratios, namely 7:93, 10:90 as antimony sublimes during baking. Polycrystalline nature of the nanostructured films were revealed by X-ray diffractogram and SAED analysis. Transmission electron microscopy study shows the presence of nanoclusters of maximum average size, ~11 nm. The band gap evaluation from the absorption spectra suggested the presence of bulk indium oxide, nanoclustered indium oxide and antimony doped indium oxide. Presence of Sb(V) in the system was evidenced from the characteristic absorption spectra in the UV region. Visible transmissivity and electrical resistivity suggested the films to be prospective transparent conducting oxide material. The photoluminescence study exhibited the characteristic emissions for defect centres.