11.12.2015 | Ausgabe 2/2016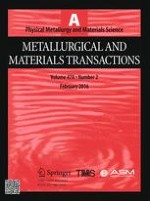 Microstructural Characteristics of Plasma Nitrided Layer on Hot-Rolled 304 Stainless Steel with a Small Amount of
α

-Ferrite
Zeitschrift:
Autoren:

Xiaolei Xu, Zhiwei Yu, Liying Cui, Xinjun Niu, Tao Cai
Wichtige Hinweise
Manuscript submitted September 24, 2014.
Abstract
The hot-rolled 304 stainless steel with
γ
-austenite and approximately 5 pct
α
-ferrite elongated along the rolling direction was plasma-nitrided at a low temperature of 693 K (420 °C). X-ray diffraction results revealed that the nitrided layer was mainly composed of the supersaturated solid solution of nitrogen in austenite (
γ
N
). Transmission electron microscopy (TEM) observations showed that the microstructure of the
γ
N
phase exhibited "fracture factor contrast" reflective of the occurrence of fine pre-precipitations in
γ
N
by the continuous precipitation. The occurrence of a diffuse scattering effect on the electron diffraction spots of
γ
N
indicated that the pre-precipitation took place in
γ
N
in the form of strongly bonded Cr-N clusters or pairs due to a strong attractive interaction of nitrogen with chromium. Scanning electron microscopy and TEM observations indicated that the discontinuous precipitation initiated from the
γ
/
α
interfaces and grew from the austenite boundaries into austenite grains to form a lamellar structure consisting of CrN and ferrite. The orientation relationship between CrN and ferrite corresponded to a Baker-Nutting relationship: (100)
CrN
//(100)
α
; [011]
CrN
//[001]
α
. A zigzag boundary line following the banded structure of alternating
γ
-austenite and elongated
α
-ferrite was presented between the nitrided layer and the substrate to form a continuous varying layer thickness, which resulted from the difference in diffusivities of nitrogen in
α
-ferrite and
γ
-austenite, along the
γ
/
α
interfaces and through the lattice. Microstructural features similar to the
γ
N
were also revealed in the ferrite of the nitrided layer by TEM. It was not excluded that a supersaturated solid solution of nitrogen in ferrite (
α
N
) formed in the nitrided layer.