01.08.2014 | Technical Article | Ausgabe 4/2014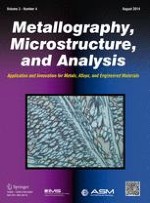 Microstructural Characterization of Mg–0.3Al–0.2Ca Alloy Using Ion Milling Surface Preparation Technique
Zeitschrift:
Autoren:

Shirin Kaboli, Dina Goldbaum, Richard R. Chromik, Raynald Gauvin
Wichtige Hinweise
This article is an invited paper selected from presentations at the 2013 Microscopy & Microanalysis Conference, held August 4–8, 2013, in Indianapolis, Indiana, USA, and has been expanded from the original presentation.
Abstract
The Vickers microindentation and spherical nanoindentation tests were carried out on a polycrystalline Mg–0.3Al–0.2Ca alloy specimen. Specimens were prepared with chemical polishing and ion milling techniques. The electron channeling contrast imaging (ECCI) and electron backscattered diffraction (EBSD) were used to study the plastic deformation inside and around the indents with a cold-field emission scanning electron microscope. The distribution of strain fields, slip lines, and twins was imaged on an indented surface. A crystallographic orientation mapping was performed to map the local crystallographic misorientation associated with channeling contrast variations. The chemical polishing technique was used to remove the material from the surface and allow the study of deformed microstructure at a maximum depth of the indent. The combination of ECCI and EBSD with chemical polishing and ion milling surface preparation techniques proved to be beneficial to study the indentation-induced plastic deformation in a polycrystalline Mg–0.3Al–0.2Ca alloy specimen.