26.02.2019 | Ausgabe 5/2019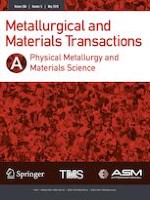 Microstructural Evaluation and Mechanical Properties of Al1050/TiO2-Graphite Hybrid Nanocomposite Produced
Via

Friction Stir Processing
Zeitschrift:
Autoren:

Mohammad Farshbaf Ahmadipour, Mojtaba Movahedi, Amir Hossein Kokabi
Wichtige Hinweise
Manuscript submitted August 4, 2018.
Publisher's Note
Springer Nature remains neutral with regard to jurisdictional claims in published maps and institutional affiliations.
Abstract
Production of Al1050/TiO
2
-graphite hybrid nanocomposite
via
friction stir processing (FSP) was studied. The effect of graphite-to-TiO
2
volume fraction ratio (Gr/TiO
2
), at a constant rotational speed (
ω
) and three levels of tool traverse speed (
ν
), on the microstructural evolution and mechanical properties of the nanocomposites was investigated. While TiO
2
is supposed to enhance the strength and hardness, graphite is believed to improve the tribological behavior. Furthermore, formation of intermetallic compounds (IMCs) through the solid-state reactions between the reinforcements and aluminum matrix may also promote the mechanical properties. To assess these assumptions, longitudinal and transverse tensile strength, Vickers microhardness, and pin-on-disk wear tests were performed. Microstructural changes and formation of compounds were explored using optical microscopy and field-emission–scanning electron microscopy (FE-SEM) as well as X-ray diffraction (XRD).
ω
/
ν
and Gr/TiO
2
ratios were introduced as the main parameters to obtain the desirable material flow and particle distribution. The hardness of the nanocomposites increased by superior distribution of the reinforcements throughout the matrix. The yield strength of the nanocomposites increased up to ~82 and ~50 pct compared to the as-received and friction-stir-processed Al1050 with no reinforcement, respectively. The tribological behavior of nanocomposites improved by the presence of the graphite acting as a solid lubricant on the sliding surface.