01.05.2011 | Ausgabe 5/2011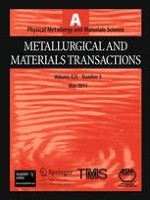 Microstructural Evolution and Bonding Behavior during Transient Liquid-Phase Bonding of a Duplex Stainless Steel using two Different Ni-B-Based Filler Materials
Zeitschrift:
Autoren:

Xinjian Yuan, Myung Bok Kim, Chung Yun Kang
Wichtige Hinweise
Manuscript submitted November 10, 2009.
Abstract
Microstructural evolution and bonding behavior of transient liquid-phase (TLP) bonded joint for a duplex stainless steel using MBF-30 (Ni
-
4.5Si
-
3.2B [wt pct]) and MBF-50 (Ni
-
7.5Si
-
1.4B
-
18.5Cr [wt pct]) were investigated. Using MBF-30, the microstructure of the athermally solidified zone was dependent on B diffusion at 1333.15 K (1060 °C). Ni
3
B and a supersaturated
γ
-Ni phase were observed in this zone. BN appeared in the bonding-affected zone. However, using MBF-50, the influences of base metal alloying elements, particularly N and Cr as well as Si in the filler material, on the bond microstructure development were more pronounced at 1448.15 K (1175 °C). BN and (Cr, Ni)
3
Si phase were present in the bond centerline. The formation of BN precipitates in the bonding-affected zone was suppressed. A significant deviation in the isothermal solidification rate from the conventional TLP bonding diffusion models was observed in the joints prepared at 1448.15 K (1175 °C) using MBF-50.