14.09.2018 | Ausgabe 12/2018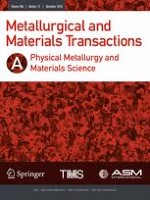 Microstructural Evolution and the Effect on Hardness and Impact Toughness of Sanicro 25 Welded Joints After Aging at 973 K
Zeitschrift:
Autoren:

Renyuan Zhou, Lihui Zhu, Yitao Yang, Zhengran Lu, Liang Chen
Wichtige Hinweise
Manuscript submitted March 28, 2018.
Abstract
Sanicro 25 tubes were welded using Alloy 617 mod. as the filler material, and the welded joints were aged at 973 K up to 10,000 hours. The hardness and impact toughness of welded joints were measured, and the microstructural evolution after aging was systematically investigated by means of OM, SEM, and TEM. After aging, the predominant precipitates in the base metal are secondary NbCrN, Cu-rich particles, and M
23
C
6
. The great increase in the hardness of base metal at the early stage of aging is attributed to the precipitation of secondary NbCrN, Cu-rich particles, and M
23
C
6
. The calculation of pinning force implies that secondary NbCrN possesses the strongest precipitation strengthening because it is extremely fine and stable. Also, Cu-rich particles are the key precipitates owing to the significant effect on the hardness change of base metal during aging. Aging results in the precipitation of needle-like M
23
C
6
and spherical
γ
′ phase as well as large M
23
C
6
particles at the grain boundaries in the weld metal. Hence, the hardness of weld metal increases. With the increasing aging time, the growths of M
23
C
6
and
γ
′ phase decrease the hardness. Some cuboids of M
23
C
6
are observed after long-term aging. The significant decrease in the impact toughness of the aged welded joints mainly results from the growth of M
23
C
6
at the grain boundaries and the interdendritic regions. Needle-like and cuboids of M
23
C
6
further decrease the impact toughness.