04.06.2018 | Ausgabe 8/2018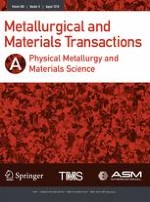 Microstructural Evolution of Nanocrystalline ZrO2 in a Fe Matrix During High-Temperature Exposure
Zeitschrift:
Autoren:

K. G. Raghavendra, Arup Dasgupta, C. N. Athreya, K. Jayasankar, S. Saroja, V. Subramanya Sarma
Wichtige Hinweise
Manuscript submitted September 8, 2017.
Abstract
The current study examines the evolution of nanocrystallites of ZrO2 with time and temperature in a Fe-ZrO2 composite. The crystallite sizes were determined through X-ray peak broadening analysis by the Williamson–Hall method together with dark field transmission electron microscopy. The ZrO2 crystallites were found to be stable and retained their sizes at 973 K and 1073 K for hold durations up to 600 minutes. On the other hand, the crystallites were seen to grow at 1173 K and reached up to ~ 200 nm for a hold time of 600 minutes. The Ostwald ripening model was adopted to understand crystallite growth while a dislocation-driven pipe diffusion was adopted for understanding the kinetics of grain growth. The activation energy of grain growth was calculated as ~ 379 kJ mol−1. The modeled and experimentally calculated size evolutions with time and temperature were shown to be in good agreement with each other. A detailed discussion on the kinetics and activation energy of grain growth of ZrO2 crystallites in a Fe matrix is presented in this manuscript.