20.03.2017 | Ausgabe 6/2017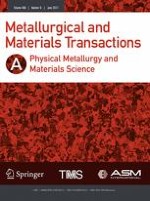 Microstructural Evolution of the Interdiffusion Zone between U-9 Wt Pct Mo Fuel Alloy and Zr-1 Wt Pct Nb Cladding Alloy Upon Annealing
Zeitschrift:
Autoren:

S. Neogy, A. Laik, M. T. Saify, S. K. Jha, D. Srivastava, G. K. Dey
Wichtige Hinweise
Manuscript submitted October 1, 2016.
Abstract
Diffusion couple formed between U-9 wt pct Mo and Zr-1 wt pct Nb alloys, proposed as fuel and clad materials, respectively, in nuclear research reactors, was annealed to investigate the microstructural evolution of the interdiffusion zone (IZ) as a function of temperature. A layered-type IZ microstructure was observed, the mechanism of development of which was elucidated. Mo
2
Zr phase, present as dispersoids, in the U-rich part of the as-bonded IZ evolved into a continuous layer and into a "massive" morphology upon annealing. The discontinuous precipitation reaction in the matrix adjoining the Mo
2
Zr phase, instigated by Mo depletion, generated lamellae of
α
-U phase within the
γ
-U(Mo,Zr) matrix. Zr-rich
α
-Zr(U) precipitates were observed in U-rich U-Mo-Zr matrix in the IZ next to the U-9Mo base material due to the clustering tendency of the matrix phase. The IZ next to Zr-1Nb base material comprised a "basket weave" microstructure of
α
-Zr laths with
β
-Zr(Nb,U) interlath boundaries, wherein an omega like transformation of the latter to
δ
-UZr
2
was also noticed. The growth rates of the IZ were orders of magnitude lower when compared with the ones reported between the compositionally similar U-10 wt pct Mo alloy and the presently used Al or Al-Si cladding alloys.