06.01.2020 | Technical Article | Ausgabe 1/2020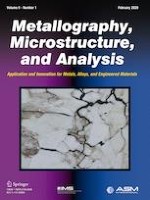 Microstructure and Corrosion Behavior of Hot-Forged Duplex Stainless Steels Sintered in Partial Vacuum and Hydrogen Atmospheres
Zeitschrift:
Autoren:

C. Rajkumar, Ramajayam Mariappan, J. Udaya Prakash
Wichtige Hinweise
Publisher's Note
Springer Nature remains neutral with regard to jurisdictional claims in published maps and institutional affiliations.
Abstract
In this investigation, two duplex stainless steels (DSS), namely DSS A and DSS B, were made by pre-alloyed powders such as 310L and 430L using the method of powder metallurgy. Chromium, nickel and molybdenum were added with pre-alloyed stainless steel powders in appropriate proportions to obtain duplex composition. Two DSS composition powders were sintered at 1350 °C in two different atmospheres, i.e., partial vacuum and hydrogen. Sintered compacts were forged at the temperature of 1150 °C and quenched in water immediately. Forged DSS were observed and analyzed for densification, microstructural examination, ferrite count and pitting corrosion. For both the compositions (DSS A and DSS B), forged density is in the range of 7.73–7.79 g/cc. Microstructure of DSS A (partial-vacuum-sintered) revealed acicular and angular types of ferritic grains along with austenitic phase. DSS B revealed elongated (cell structure) ferrite grains of various sizes along with random orientation. Partial-vacuum-sintered steels contain more ferrite volume than hydrogen-sintered steels. The lowest current density of 3.04 E-5 mA/cm2 and the highest linear polarization resistance of 46,882 Ωcm2 have been exhibited for the hydrogen-sintered DSS B composition.