01.08.2016 | Ausgabe 8/2016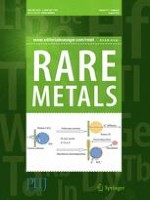 Microstructure and damping properties of MnCuNiFeCe alloy
Zeitschrift:
Autoren:

Feng-Shuang Lu, Bin Wu, Jian-Fu Zhang, Ping Li, Dong-Liang Zhao
Abstract
Mn-Cu alloys could exhibit high damping ability and excellent mechanical properties after proper heat treatment. In order to reduce the influence of impurity elements on damping capacity of Mn-Cu alloys, rare element cerium (Ce) was added into MnCuNiFe alloys. It is indicated that the contents of C, S and Si which have adverse effects on the damping capacity decrease and the grains are refined with the Ce content increasing. The microstructure of the MnCuNiFeCe alloy was investigated by X-ray diffraction (XRD), scanning electron microscope (SEM) and transmission electron microscopy (TEM). The damping ability (tan
δ
) of the alloy was characterized by dynamical mechanical analyzer (DMA). It is found that the damping ability (tan
δ
) retains a very high level which is all above 0.05 from the temperature of −50 to 75 °C with the addition of Ce element. It is expected that the Ce alloying MnCuNiFe alloy with refined grains could find wide applications in the field of industry.