05.03.2019 | Ausgabe 3/2019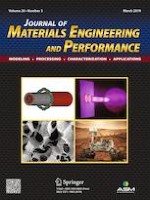 Microstructure and Mechanical Characterization of Incoloy 925 Welds in the As-Welded and Direct Aged Conditions
Zeitschrift:
Autoren:

S. Sujai, K. Devendranath Ramkumar
Wichtige Hinweise
Publisher's Note
Springer Nature remains neutral with regard to jurisdictional claims in published maps and institutional affiliations.
Abstract
The joints of Incoloy 925 obtained from gas tungsten arc welding (GTAW) with pulsating current utilizing ERNiCrMo-3 and ERNiCrMo-10 were investigated under as-welded and direct aged conditions. The microstructure showed the microsegregation of Nb-Mo-, Ti-rich phases in the weld zone of ERNiCrMo-3 in the as-welded condition. Post-weld heat treatment (PWHT) involving direct aging was carried out on the weldments at 732 °C for 4 h followed by air cooling. On direct aging, the tensile strength of the base metal increases by 40% when compared to the as-received ones. The failures were experienced in the parent metal of Incoloy 925 upon tension testing in as-welded conditions. Although the tensile strength was improved considerably, the failures occurred at the fusion zones, for both the fillers in the direct aged conditions. The joint efficiencies of Incoloy 925 welds employing ERNiCrMo-3 and ERNiCrMo-10 were reported as 95 and 86%, respectively. The impact toughness of the weldments in both the as-welded and PWHT conditions was considerably greater compared to that of the candidate metal.