01.04.2014 | Ausgabe 2/2014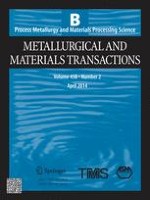 Microstructure and Mechanical Properties of AA5005/AA6061 Laminated Composite Processed by Accumulative Roll Bonding
Zeitschrift:
Autoren:

Lihong Su, Cheng Lu, Guanyu Deng, Kiet Tieu
Wichtige Hinweise
Manuscript submitted January 21, 2013.
Abstract
The AA5005/AA6061 laminated composite has been fabricated by the accumulative roll bonding (ARB) using commercial AA5005 and AA6061. In the ARB process, one piece of AA5005 sheet and one piece of AA6061 sheet were stacked together and rolled with a 50 pct reduction without any lubrication. The materials were heated at 473 K (200 °C) for 10 minutes before each rolling process and were deformed up to four cycles to accumulate an equivalent strain of 3.2 and form an AA5005/AA6061 laminated composite. Mechanical properties and microstructure of the laminated composites were tested. The hardness and tensile strength increased, and the grain size reduced with the number of ARB cycles. Ultrafine grains elongated along the rolling direction were developed during the ARB process. The thicknesses of the grains of both the AA5005 and AA6061 layers were less than 200 nm after the fourth cycle. The uniform elongation decreased drastically after the first cycle ARB and stayed almost unchanged after further ARB process. The hardness of the AA5005 layer was slightly lower than that of the AA6061 layer. The microstructures from optical microscope and transmission microscope showed that in the AA6061 layer large precipitates in the micron scale and small particles less than 100 nm were present, whereas in the AA5005 layer there were large scale precipitates, but no small-sized particles.