12.11.2020 | Ausgabe 7-8/2020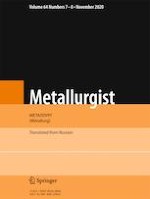 Microstructure and Mechanical Properties of Martensitic High-Strength Engineering Steel
Zeitschrift:
Autoren:

M. V. Maisuradze, M. A. Ryzhkov, D. I. Lebedev
Wichtige Hinweise
Translated from Metallurg, Vol. 64, No. 7, pp. 41–49, July, 2020.
A promising martensitic steel with good hardenability is studied. In the cooling rate range 0.1–30°C/sec and the only transformation recorded by a dilatometer starts at an
M
s
temperature of 355 ± 10°C. Microstructure and mechanical properties of the steel studied are analyzed after various heat treatment regimes: cooling from the austenitizing temperature at various rates (from 0.02 to 20°C/sec), austempering at 280–380°C, and oil quenching and tempering at 200–600°C. It is shown that a 1000-fold change in the cooling rate has a weak effect on steel strength. Bainitic transformation in the steel in question occurs in the martensitic transformation temperature range, which leads to a reduction in impact strength compared with a martensitic microstructure both after slow cooling and isothermal hardening.