01.04.2015 | Ausgabe 4/2015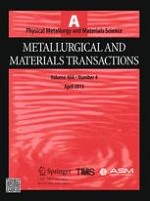 Microstructure and Mechanical Properties of Ultra-fine-Grained Al-Mg-Si Tubes Produced by Parallel Tubular Channel Angular Pressing Process
Zeitschrift:
Autoren:

G. Faraji, S. Roostae, A. Seyyed Nosrati, J. Y. Kang, H. S. Kim
Wichtige Hinweise
Manuscript submitted July 19, 2014.
Abstract
In the present work, commercial Al-6061 alloy tubes were processed
via
multi-pass parallel tubular channel angular pressing (PTCAP). The effects of the number of passes on grain refinement and mechanical properties were investigated. The microstructural evolution was characterized using electron back-scattered diffraction (EBSD) and scanning electron microscopy. The mechanical properties were evaluated using tensile tests and hardness measurements. The EBSD analyses presented that the elongated subgrains or grains with ~800 nm in size and a high fraction of low-angle grain boundaries were formed after two PTCAP passes. After four passes, the elongated subgrains have transformed to almost equiaxed grains with ~400 nm in size and high-angle grain boundaries. Microhardness of the processed tube increased from 38.9 to 63.4 HV (~63 pct) after three PTCAP passes. An increase in the number of PTCAP passes after three passes has no more effect on the microhardness. Yield and ultimate tensile strength were increased by 2.1 and 1.6 times, respectively, after four PTCAP passes (
ε
~6.4) compared to the annealed sample. Ductile fracture with an extensive necking zone and many big dimples occur in the annealed sample, while fine dimples and limited ductile fracture features were observed in the ultra-fine grained PTCAP-processed samples.