22.12.2016 | Ausgabe 3/2017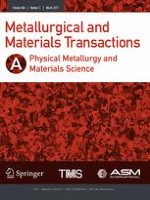 Microstructure and Mechanical Properties of V-Nb Microalloyed Ultrafine-Grained Dual-Phase Steels Processed Through Severe Cold Rolling and Intercritical Annealing
Zeitschrift:
Autoren:

M. Papa Rao, V. Subramanya Sarma, S. Sankaran
Wichtige Hinweise
Manuscript submitted November 1, 2015.
Abstract
Ultrafine-grained (UFG) dual-phase (DP) steel was produced by severe cold rolling (true strain of 2.4) and intercritical annealing of a low carbon V-Nb microalloyed steel in a temperature range of 1003 K to 1033 K (730 °C to 760 °C) for 2 minutes, and water quenching. The microstructure of UFG DP steels consisted of polygonal ferrite matrix with homogeneously distributed martensite islands (both of size <1
µ
m) and a small fraction of the inter lath films of retained austenite. The UFG DP steel produced through intercritical annealing at 1013 K (740 °C) has good combination of strength (1295 MPa) and ductility (uniform elongation, 13 pct). The nanoscale V- and Nb-based carbides/carbonitrides and spheroidized cementite particles have played a crucial role in achieving UFG DP microstructure and in improving the strength and work hardening. Analysis of work hardening behavior of the UFG DP steels through modified Crussard–Jaoul analysis showed a continuously varying work hardening rate response which could be approximated by 2 or 3 linear regimes. The transmission electron microscopy analysis on post tensile-tested samples indicated that these regimes are possibly related to the work hardening of ferrite, lath, and twin martensite, respectively.