29.04.2016 | Ausgabe 8/2016 Open Access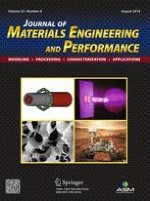 Microstructure and Properties of the Ti6Al4V/Inconel 625 Bimetal Obtained by Explosive Joining
Zeitschrift:
Autoren:

Krzysztof Topolski, Zygmunt Szulc, Halina Garbacz
Wichtige Hinweise
This article is an invited submission to JMEP selected from presentations at the Symposium "Joining Technologies," belonging to the Topic "Joining and Interfaces" at the European Congress and Exhibition on Advanced Materials and Processes (EUROMAT 2015), held September 20–24, 2015, in Warsaw, Poland, and has been expanded from the original presentation.
Abstract
The study is concerned with the bimetallic plate composed of the Ti6Al4V and Inconel 625 alloys. The alloys were joined together using the explosive method with the aim to produce a bimetallic joint. The structure and the mechanical properties of the as-received raw Ti6Al4V and Inconel 625 alloys, the Ti6Al4V/Inconel 625 joint, and the joint after annealing (600 °C for 1 h) were examined. The samples observations were performed using a light microscope and a scanning electron microscope. The mechanical properties were estimated by microhardness measurements, tensile tests, and three-point bending tests. Moreover, the deformation strengthening of the metals and the strength of the joint were analyzed. The explosive process resulted in a good quality bimetallic joint. Both sheets were deformed plastically and the joint surface between the alloys had a wavy shape. In the area of the joint surface, the hardness was increased. For example, the annealing at 600 °C for 1 h resulted in changes of the microhardness in the entire volume of the samples and in changes of the morphology of the joint surface. In three-point bending tests, the samples were examined in two opposite positions (Ti6Al4V on the top or Inconel 625 on the top). The results indicated to depend on the position in which the sample was tested.