01.04.2015 | Ausgabe 4/2015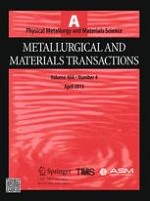 Microstructure and Texture Evolution of Magnesium Alloys During Electropulse Treatment
Zeitschrift:
Autoren:

Jie Kuang, Xiaohui Li, Xiaoxin Ye, Jianguo Tang, Haifeng Liu, Jeff Wang, Guoyi Tang
Wichtige Hinweise
Manuscript submitted September 24, 2014.
Abstract
Two magnesium alloys AZ31 and ZEK100 were subjected to cold rolling followed by electropulse treatment (EPT) for different durations in order to investigate the microstructure and texture evolution during EPT. AZ31 started to recrystallize once the electropulse current was applied. ZEK100, in contrast, exhibited two-stage recrystallization before which an evident recovery process occurred. Texture modification was achieved in both alloys after recrystallization, with AZ31 exhibiting a weak RD-split texture and ZEK100 a TD-spread one. The results were discussed with particular emphasis on the distinct impact of electropulse current on the recrystallization texture formation. It is proposed that the promotion of the nucleation of non-basal-oriented grains, the change of the relative mobility of grain boundaries, and the non-basal dislocation activity in the continuous recrystallization are responsible for the texture modification.