01.04.2020 | Ausgabe 8/2020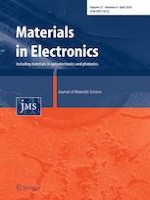 Microstructure characterization of Al2O3–Mullite–AlN multiphase ceramic film on Cr/WCu substrate
Autoren:

Jiandong Zhu, Zhen Zheng, Chunqing Wang, Jianguo Liu
Wichtige Hinweise
Publisher's Note
Springer Nature remains neutral with regard to jurisdictional claims in published maps and institutional affiliations.
Abstract
The sintering mechanism of multiphase ceramic film—made of alumina, mullite and aluminum nitride—fabricated by water vapor-assisted sintering on Cr/WCu substrate was investigated. The multiphase ceramic film and interfacial reaction layer between ceramic film and Cr/WCu substrate were examined to reveal their microstructure by relevant test methods. The multiphase ceramic was composed of
α
-Al
2
O
3
and mullite-coated aluminum nitride particles. During metastable stage, metastable alumina and amorphous silica were generated, which originated from AlN and PCS, respectively. A structure containing Al–Si–O glass and metastable alumina-coated AlN particle was formed. With firing temperature increasing to 1050 °C, Al–Si–O glass crystallized and generated crystal mullite. Meanwhile,
α
-Al
2
O
3
was formed from metastable alumina.
κ
-Al
2
O
3
and Al
1.98
Cr
0.02
O
3
phases were observed in the interfacial reaction layer by high-resolution transmission electron microscopy. It revealed that the distances of (002) facet for
κ
-Al
2
O
3
and (104) facet for Al
1.98
Cr
0.02
O
3
were 0.447 nm and 0.255 nm, respectively. During water vapor-assisted sintering,
κ
-Al
2
O
3
and Cr
2
O
3
were generated, which were derived from AlN and Cr, respectively. When the sintering temperature was increased to 1050 °C,
κ
-Al
2
O
3
and Cr
2
O
3
would react with each other and generate Al
1.98
Cr
0.02
O
3
phase. The Al
1.98
Cr
0.02
O
3
phase was of great help to improving adhesion strength of multiphase ceramic film on Cr/WCu substrate.