01.02.2013 | Ausgabe 2/2013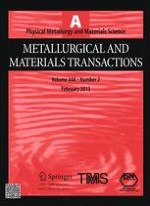 Microstructure Evolution in Directionally Solidified Fe-Ni Alloys in Diffusive Regime
Zeitschrift:
Autoren:

Z. R. Feng, J. Shen, W. Wang, L. S. Wang, J. F. Zhang, Y. J. Du, H. Z. Fu
Wichtige Hinweise
Manuscript submitted: September 25, 2011.
Abstract
Directional solidification experiments have been carried out in Fe-Ni peritectic alloys to study microstructure evolution in diffusive regime. A numerical modeling of melt convection was developed and discussed to investigate the convective velocity in samples of different diameters. The simulation results show that convection effects can be reduced by decreasing the sample diameter, and diffusion-controlled growth can be achieved if the sample diameter is smaller than about 1 mm. Based on the simulation results, experiments were performed in thin samples of 1 mm diameter to obtain microstructures in diffusive regime. Different kinds of microstructure evolutions were observed in the directionally solidified Fe-Ni alloys. The time-dependent microstructure evolution implies that the solidification process seemed to be in non-steady state rather than in steady state. Based on the transient model, solute distributions in the liquid ahead of the primary and peritectic phases were discussed to reveal the microstructure evolution. Since the solute partition coefficients of the primary and peritectic phases are different, the magnitudes of solute element rejected by the two solid phases are different in two-phase growth conditions. And within the boundary layer, the solute fields ahead of the primary and peritectic phases are different owing to the weak effect of solute mixing in diffusion-controlled regime. Furthermore, microstructure evolution in peritectic alloys was discussed based on the analysis of solute redistribution.