28.08.2019 | Ausgabe 9/2019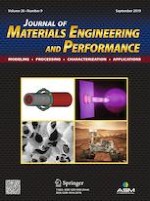 Microstructure Evolution, Structural Integrity, and Hot Corrosion Performance of Nitrogen-Enhanced Stainless Steel Welds
Zeitschrift:
Autoren:

K. Devendranath Ramkumar, Ninad Mehta, Satyam Shukla, Prateek Parameswar, V. Jaya Surya, R. Rishi Bharadwaj, Pranav Nikam, Xizhang Chen
Wichtige Hinweise
Publisher's Note
Springer Nature remains neutral with regard to jurisdictional claims in published maps and institutional affiliations.
Abstract
This work articulated the multi-pass, gas tungsten arc welding by adopting pulsating current for joining nitrogen-enhanced, low-carbon austenitic stainless steel, AISI 316L(N). An austeno-ferrite stainless steel (ER2594) and an over-alloyed (ERNiCrMo-3) fillers were employed to join 6-mm-thick plates of AISI 316L(N). Acicular and lathy ferrite in the weld zone of ER2594 and the occurrence of secondary phases in the fusion zone of over-alloyed filler were observed. The notch tensile strength data attested that the joint strength was greater for the welds employing an over-alloyed filler. This study also affirms that the welds obtained with ER2594 filler resulted in better impact toughness (144 J) compared with ERNiCrMo-3 filler and base metal. Also the notch impact toughness of ER2594 weldment is increased to 60% in comparison with that of candidate metal. Corrosion studies were also performed by exposing the coupons in a eutectic salt mixture comprising of 40%K2SO4-60%NaCl for 50 cycles at 650 °C. It is observed that the weld zone employing over-alloyed filler experienced better high-temperature corrosion resistance compared to the base metal. The specific results of this investigation will be of greater demand to the nuclear and marine applications utilizing these joints.