01.09.2018 | STRENGTH AND PLASTICITY | Ausgabe 9/2018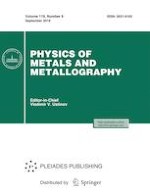 Microstructure Homogeneity and Mechanical Properties of Large-Size As-Cast High Nb Containing TiAl Alloy Ingot
Zeitschrift:
Autoren:

S. Z. Zhang, M. Xu, C. J. Zhang, J. C. Han, Y. F. Chen, F. T. Kong, Y. Y. Chen
Wichtige Hinweise
1The article is published in the original.
Abstract
The high Nb containing TiAl alloy with a nominal composition of Ti–44Al–8Nb–0.2W–0.2B–0.1Y was fabricated by a Vacuum Arc Remelting furnace. The microstructure and mechanical properties of specimens located in different sites of the ingot were investigated. Owing to the influence of melting process and electrode fabricating method, the morphologies and phase containing of this near lamellar structure in the top, middle, and bottom parts of ingot were different. The subtle difference in microstructure strongly influenced the room and high-temperature tensile properties in turn. However, the dominant influence factor of the mechanical properties was the defects at the bottom of this large-size ingot, though the bottom had the finest grain size.