14.10.2020 | Ausgabe 11/2020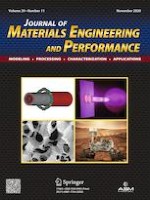 Microstructure of Electrodeposited Nickel: Role of Additives
Zeitschrift:
Autoren:

Mark K. King Jr., Manoj K. Mahapatra
Wichtige Hinweise
Electronic supplementary material
This article is an invited paper selected from presentations at the '11th International Symposium on Green and Sustainable Technologies for Materials Manufacturing and Processing,' held during Materials Science & Technology (MS&T'19), September 29-October 3, 2019, in Portland, OR, and has been expanded from the original presentation.
Mark K. King Jr. and Manoj K. Mahapatra have equal contribution to this work.
Publisher's Note
Springer Nature remains neutral with regard to jurisdictional claims in published maps and institutional affiliations.
Abstract
Micro–nanoscale surface microstructure of electrodeposited nickel on AISI 430 substrate from sulfamate bath with ionic and nonionic additives was investigated. 0.69 × 10−4-2.08 × 10−4 M sodium dodecyl sulfate (SDS) and 0.5-4.0 M sodium chloride (NaCl) were used as ionic additives. 0.5-4.0 M ethanol and 1-propanol were used as nonionic additives. Ethanol, propanol, and NaCl promote evolution of nickel micro–nanocones/pyramids. Concentration of these additives, especially NaCl, plays a significant role to modify nickel microstructure. Adhesion of deposited nickel with the substrate, determined by crosscut tape test, is excellent for SDS, ethanol, and propanol additive regardless of their concentration. NaCl degrades the adhesion resulting 100% removal of deposited nickel for 4.0M additive in sulfamate bath. Nickel coating without additive and 1.39 × 10−4 M SDS additive corrode at the same rate (1.08 × 10−2 mm/year), while the other additives increase the corrosion rate.