14.11.2016 | Ausgabe 5/2017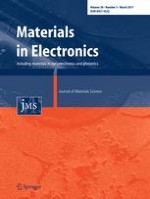 Microstructure, phase structure and electrical properties of 0.954K1−

x

Na

x

NbO3–0.04Bi0.5Na0.5ZrO3–0.006BiFeO3 lead-free ceramics
Autoren:

Jian Ma, Bo Wu, Wenjuan Wu, Min Chen
Abstract
In this work, 0.954K
1−

x
Na
x
NbO
3
–0.04Bi
0.5
Na
0.5
ZrO
3
–0.006BiFeO
3
(KN
x
N–BNZ–BF) lead-free ceramics were fabricated by conventional ceramic technique. The effect of K/Na ratio on microstructure, phase structure and electrical properties was systematically investigated. The orthorhombic-tetragonal phase transition temperature (
T
O–T
) increases and rhombohedral–orthorhombic phase transition temperature (
T
R–O
) drops simultaneously with increasing the Na content, leading to an R–O–T phase boundaries in the ceramics with 0.44 ≤
x
≤ 0.60. By tailoring their K/Na ratio and optimizing the sintering temperature, an enhanced electrical properties (e.g.
d
33
~ 438 pC/N,
k
p
~ 0.51,
T
c
~ 320 °C,
ε
r
~ 2304 and tan
δ
~ 0.029) was obtained at the ceramics with
x
= 0.56 sintered at 1090 °C, which could be attributed to the preferably density as well as the R–O–T phase boundary nearer the room temperature. Therefore, we think that the KN
x
N–BNZ–BF ceramic is a promising candidate for piezoelectric devices.