28.01.2019 | Chemical routes to materials | Ausgabe 9/2019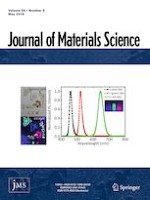 Microwave-assisted synthesis of AuNPs/CdS composite nanorods for enhanced photocatalytic hydrogen evolution
Zeitschrift:
Autoren:

Yanqi Xu, Cui Du, Jay D. Steinkruger, Chen Zhou, Shengyang Yang
Wichtige Hinweise
Electronic supplementary material
Abstract
Photocatalytic hydrogen generation is of fundamental importance for the production of clean and sustainable energy. In this work, a facile in situ microwave-assisted synthesis strategy has been developed to synthesize AuNPs/CdS composite nanorods (NRs) for enhanced photocatalytic hydrogen evolution. At 5 wt% of AuNPs, the AuNPs/CdS composite NRs exhibit a significantly enhanced photocatalytic activity for H2 evolution that is 26 times higher than pure CdS, and 2.1 times greater than that of 5 wt% AuNPs/CdS sample synthesized via a traditional hydrothermal method. Enhanced hydrogen evolution can be attributed to the strong synergistic interactions between the AuNPs and CdS NRs in the composite material, which provide efficient electron/hole transfer, improved photon absorption in visible region, and optimized charge carrier formation and photostability. This work can potentially pave a path toward rapid, microwave-assisted fabrication of high-performance metal/semiconductor composite photocatalysts for large-scale photocatalytic H2 production.