Erschienen in: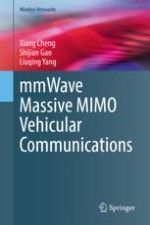 2023 | OriginalPaper | Buchkapitel
1. Millimeter-Wave Vehicular Communications
Abstract
This chapter works on presenting a background overview associated with vehicular communications and networking. The first part focuses on reviewing the recent advancements and progress booming in vehicular networking and standardization. As existing wireless solutions cannot guarantee safe, swift, and ubiquitous high-volume data transfer in future vehicular-to-everything communication, mmWave comes into play to help address the information bottleneck beyond the 5G era. Henceforth, the second part follows to provide a holistic overview of mmWave physical fundamentals and mmWave system properties. The chapter is concluded with a brief organization of this monograph studying mmWave vehicular communications.