04.07.2019 | ORIGINAL ARTICLE | Ausgabe 5-8/2019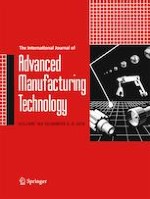 Milling force of quartz fiber–reinforced polyimide composite based on cryogenic cooling
Autoren:

Fengbiao Wang, Zhang Bin, Yongqing Wang
Wichtige Hinweise
Publisher's note
Springer Nature remains neutral with regard to jurisdictional claims in published maps and institutional affiliations.
Abstract
The structure and physical properties of polyimide matrix composites lead to serious tool wear. And the cutting force is the obvious effect on machining efficiency in dry and cryogenic milling process. A predicted model was fabricated considering cutting temperature. The cryogenic cooling milling method was executed for a series of processing experiments. At the same time, the machining surface morphology, roughness, and cutting force were measured and analyzed compared with dry cutting. Meanwhile, the tool wear regular and mechanism were discussed. The result shows that the cutting force model of composite materials is improved based on cryogenic cutting performance. The friction coefficient of tool/workpiece on contact surface is greatly affected by the cutting heat, and the friction coefficient is reduced in the cutting force model. At the same time, the mechanical properties such as modulus in the model are increased with the decrease of temperature, and it leads to the increase cryogenic milling force. In the milling test, the increase of tensile and compressive strength of composite material is caused by cryogenic cooling. The change leads to the increase of material brittleness with bigger cutting force. Meanwhile, the breaking chip is changed with the improvement of processing quality. Similarly, the better cutting parameter is
v
c
= 100/min,
a
p
= 1.5 mm, and = 40°. In cryogenics, because of the poor thermal conductivity of composite material, part of the fiber material is still not effectively cryogenic treated with the increase in cutting depth; it cannot be brittle cutting for bigger cutting depth material.