25.04.2020 | ORIGINAL ARTICLE | Ausgabe 9-10/2020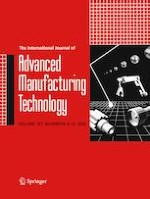 Milling of Ti–6Al–4V under hybrid Al2O3-MWCNT nanofluids considering energy consumption, surface quality, and tool wear: a sustainable machining
Autoren:

Muhammad Jamil, Aqib Mashood Khan, Hussien Hegab, Munish Kumar Gupta, Mozammel Mia, Ning He, Guolong Zhao, Qinghua Song, Zhanqiang Liu
Wichtige Hinweise
Publisher's note
Springer Nature remains neutral with regard to jurisdictional claims in published maps and institutional affiliations.
Abstract
Sustainable manufacturing philosophy strives for energy-efficient, high quality, and productivity as critical characteristics of a milling process. Hence, an attempt was made to limit the energy consumption, and tool wear in the face milling of hard-to-cut titanium alloy without compromising product quality and productivity. For that, a strong influence of hybrid alumina and multiwalled carbon nanotube (Al
2
O
3
-MWCNT) nanoadditive-based minimum quantity lubrication (MQL) was investigated on key machining characteristics. The simultaneous influence of control factors on machining characteristics was evaluated through mathematical modeling and the most straightforward multi-objective optimization. Based on the multi-objective decision approach, the energy consumption of Ec = 829.78
W
, surface roughness Ra = 0.549 μm, and material removal rate MRR = 303.9 mm
3
/min were attained at cutting speed
N
 = 3800 rpm, feed
f
 = 0.012 mm/tooth, depth of cut
a
p
 = 0.40 mm, and width of cut
a
e
 = 3.6 mm respectively. Despite the trade-off among energy consumption, surface roughness, and material removal rate, the desirability function tried to strike a balanced operating level to achieve less energy consumption, better surface quality, and higher materials removal rate. Additionally, tool wear, chip analysis, and surface topography as key characteristics of the milling process were considered to analyze the wear behavior, chip sliding, and machined surface characteristics under hybrid nanoadditive-based MQL machining. The novelty of this experimental work lies in considering important milling characteristics of hard-to-cut Ti–6Al–4V alloy under hybrid nanofluid-assisted MQL machining. Regarding sustainable green cutting technology, clean cutting of titanium alloy was implemented by nanoadditive-assisted MQL technique.