08.10.2018 | Originalarbeit | Ausgabe 10/2018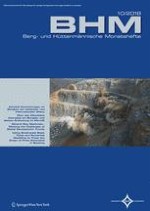 Mineral Raw Materials—Meeting the Challenges of Global Development Trends
Zeitschrift:
Autoren:

Holger Paulick, Pekka Nurmi
Abstract
This paper investigates the link between global economic development and increasing mineral raw material demand. Clearly, the improvement in living standards is associated with substantial raw material consumption increase. More than half of the global production of steel, copper, coal, nickel and cement is currently consumed by China. Examination of historical patterns of copper consumption indicate that developing economies will continue to increase global mineral raw material demand for the near future. However, it can be shown that exploration and technological developments have been able to maintain a fairly constant production/reserve ratio over the last 60 years in copper space. Hence, it seems technically feasible that the mining industry can continue to provide the raw material needs for global economic development.
Particular challenges are associated with the development of new technologies especially in the field of renewable energies and e‑mobility. Here, the question of "criticality" of certain minor raw materials represents an additional layer of complexity.
In order to develop a sustainable mining industry it is important to implement improvements in the fields of environmental protection, operational safety and corporate governance. Also, considerable efforts are required to maintain a social licence to operate. The developments in Finland during the recent decades demonstrate that the geological potential of Europe for exploration success and mine development can be harvested while developing new solutions to stakeholder engagement and managing competing land use interests.