2017 | OriginalPaper | Buchkapitel
Minimization of Visibly Pushdown Automata Using Partial Max-SAT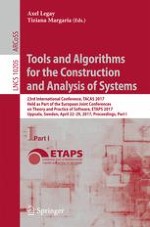 Erstes Kapitel lesen
Autoren: Matthias Heizmann, Christian Schilling, Daniel Tischner
Verlag: Springer Berlin Heidelberg
Abstract
We consider the problem of state-space reduction for nondeterministic weakly-hierarchical visibly pushdown automata (V
pa
). V
pa
recognize a robust and algorithmically tractable fragment of context-free languages that is natural for modeling programs.
We define an equivalence relation that is sufficient for language-preserving quotienting of V
pa
. Our definition allows to merge states that have different behavior, as long as they show the same behavior for reachable equivalent stacks. We encode the existence of such a relation as a Boolean partial maximum satisfiability (
PM
ax-S
at
) problem and present an algorithm that quickly finds satisfying assignments. These assignments are sub-optimal solutions to the
PM
ax-S
at
problem but can still lead to a significant reduction of states.
We integrated our method in the automata-based software verifier U
ltimate
A
utomizer
and show performance improvements on benchmarks from the software verification competition SV-COMP.