01.04.2013 | Ausgabe 2-4/2013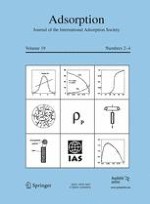 Misleading information on homogeneity and heterogeneity obtained from sorption isotherms
Zeitschrift:
Autoren:

József Kónya, Noémi M. Nagy
Wichtige Hinweise
The work was presented at the 8th International Symposium Effects of Surface Heterogeneity in Adsorption and Catalysis on Solid.
Abstract
In this paper, the applications and the differences among the widely applied sorption isotherms (Langmuir isotherm for adsorption, competitive adsorption, ion exchange, Freundlich isotherm) are shown. The misleading information obtained by the formal applications of the isotherms is demonstrated using a simple mathematical model of homovalent ion exchange on homogeneous surface. This model calculation clearly reveals that when studying surface accumulation processes, the mechanism of the sorption process has to be determined. The correct thermodynamic interpretation of the data of sorption experiments is possible only if the isotherm is adapted to the sorption mechanism. It is emphasized that the regression values of the applied models themselves provide correct information neither on the surface heterogeneity nor the interactions among the sorbed species. The curved shape of an inadequate applied isotherm gives no information about the heterogeneity. In order to study the energy distribution of surface sites, the thermodynamic equations, including isotherms, has to be selected on the basis of sorption mechanism. All variable quantities involved in the given model (concentrations of the competing substances in all phases) have to be measured experimentally and included into the isotherm.