04.09.2020 | Original Paper | Ausgabe 2/2021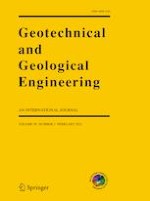 Mitigation Dredging in Seabed Geotechnical Engineering Study Using Marine 2D ERI and Textural Characteristics in Thengapattanam Harbour, South India
Zeitschrift:
Autoren:

A. Antony Ravindran, J. Vinoth Kingston, K. Hepzibah Premshiya
Wichtige Hinweise
Publisher's Note
Springer Nature remains neutral with regard to jurisdictional claims in published maps and institutional affiliations.
Abstract
An able-bodied, due to the exposure of the rocks in the northeast part of the boat path, the construction of Thengapattanam port encountered a major problem of dredging. In Thengapattanam, 2D electrical resistivity imaging (ERI) method and geotechnical soil texture investigation was carried out during underwater rock exposure to alleviate the need for continued dredging operations. The 2D ERI Marine Resistivity of special carbon floating electrodes with Wenner configuration technique used in this study. Res2DINV software was used to interpret the collected resistivity data to develop the apparent resistivity and pseudo-profile of exposed rock and soil in underwater. The Magneto Telluric Resistivity technique is used to locate the underground rock features of the port rock formation in deep mapping. The 2D picture shows the resistivity range of the three layers, such as top soil (0.06–0.9 Ω m soil contains clay), 1–1.5 Ω m sandy loam and 1.5–6 Ω m weathered gneiss, indicating subsurface geological conditions in the area. The support for texture analysis includes sampling, screening, weighing and calculation of graphic study for consolidation package of soil and rock formation. Marine 2D ERI and Magneto telluric resistivity studies are used for determine the formation of underwater rocks in river and coastal environments.