2019 | OriginalPaper | Buchkapitel
Mitigation Strategies and Engineering Solutions for Infrastructure at Risk from Earth Fissures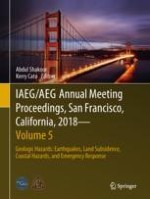 Erstes Kapitel lesen
Autoren: Kenneth C. Fergason, Michael L. Rucker
Abstract
Land subsidence can severely impact infrastructure and alter existing floodplain designations by changing ground elevation, ground slope (gradient), and through the development of ground cracks, known as earth fissures, that can erode into large gullies. Mitigation strategies and engineering solutions for infrastructure at risk from earth fissures are not widely available in existing literature, however many examples exist. Guidance on mitigation strategies intending to reduce the level of risk associated with the infrastructure exposed to earth fissure hazards has been developed for several sites in Arizona. The options are intentionally flexible so that the owner and design team can develop solutions that conform to the risk tolerance of stakeholders. The guidance is as follows:
High Hazard Areas (earth fissures known to be present). Avoidance and/or significant engineered mitigation solutions.

Moderate Hazard Areas (earth fissures could be present or develop in the future). Consider avoidance or implement engineered mitigation efforts such as structural elements and/or subsidence and earth fissure monitoring.

Low Hazard Areas (earth fissures unlikely to be present or to develop in the future). Typical safety monitoring and maintenance for the infrastructure type.
Additionally, engineering solutions have been designed and constructed throughout the Southwestern USA. These engineering solutions depend on the consequence of failure for the infrastructure at risk due to earth fissuring. Solutions include a variety of design goals, such as prevention of catastrophic failure, reduction of maintenance needs, and monitoring the hazard. Constructed engineering solutions include monitoring instrumentation, surface water diversion, cut-off walls, geotextile encapsulating aggregate 'burrito' wrap, structurally reinforced embankments, geotextile reinforcement of engineered fill, reinforced concrete lining, rip-rap lining, geotextile liners, use of controlled low-strength material backfill, and hybrid methods combining multiple approaches mentioned above.