01.08.2016 | Technical Article---Peer-Reviewed | Ausgabe 4/2016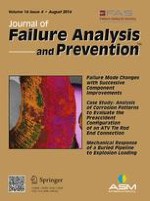 Mixed Mode Stress Intensity Factor Determination of Multiple Cracks in Hollow Circular Pipe
Zeitschrift:
Autoren:

S. Suresh Kumar, M. Murugan, S. Kalimuthu, N. Balaji
Abstract
Failure of pressure vessels and piping due to high temperature applications occurs due to the formation of fatigue cracks caused by cyclic load. It is well known that, the consequences of collapses of pipes causing enormous disruption of daily life. Thus there is a need to design and manufacture the pipes with precision and care. The major cause of crack nucleation in pipes is due to corrosion and internal fluid pressure. The crack-tip stresses are determined using stress intensity factor (SIF). In the present work an attempt has been made to determine the SIF for multiple cracks in a circular pipe subjected to internal fluid pressure. Two surface cracks of same size were introduced at the inner wall of the tube. The crack depth ratio (
a
/
t
) ranging between 0.1 and 0.5 and crack aspect ratio (
a
/
c
) of 0.6 and 1.0 was considered. Internal fluid pressure of 100 MPa was applied at the inner surface of the pipe and the corresponding SIF was measured. SIF values were calculated with consideration of mode-II and mode-III fracture in order to predict the exact SIF. As available SIF solutions of cracked pipes are limited to mode-I fracture, present work presents the influence of additional influence of mode-II and mode-III fracture. It is observed that, as crack depth ratio increases, SIF also increases considerably for semi-circular cracks. Higher SIF values were observed at the crack surface region [
S
/
S
0
= ±1] compared to crack middle [
S
/
S
0
= 0] region. A crossover in SIF was noted at a crack depth ratio of 0.3. At higher crack depths, SIF values decrease at the crack surface region due to additional influence of mode-II and mode-III fracture. In contrast to semi-circular cracks, SIF values are higher at the crack surface region for semi-elliptic cracks irrespective of the crack depths.