01.02.2011 | LCA OF WASTE MANAGEMENT SYSTEMS | Ausgabe 2/2011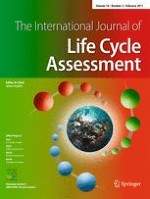 Mixed municipal waste management in the Czech Republic from the point of view of the LCA method
Zeitschrift:
Autoren:

Vladimir Koci, Tatiana Trecakova
Wichtige Hinweise
Responsible editor: Shabbir Gheewala
Abstract
Purpose
This paper presents the results of a life-cycle assessment (LCA) study for integrated systems (IS) of mixed municipal waste (MMW) management in the Czech Republic. The seven IS categories assessed were: (a) incineration with slag recovery, (b) incineration without slag recovery, (c) landfills with incineration of the landfill gas by flaring, (d) landfills with recovery of the landfill gas, (e) mechanical–biological treatment (MBT) with aerobic treatment, (f) MBT biodrying with co-incineration of refuse-derived fuel, and (g) MBT biodrying with incineration of refuse-derived fuel from a monosource.
Methods
The environmental impacts were evaluated using the CML 2001 methodological approach. The methodology from EDIP 2003 was used for performing the sensitivity analysis on the selection of the methodologies for characterization. The treatment of 1 t of MMW was the functional unit selected. Data was collected from both within the Czech Republic (for incineration plants and landfills), as well as from abroad (for the MBTs). The IS assessed were modelled on the basis of available data and using the best processes and data available from the LCA software.
Results and discussion
We established that the integrated system of mixed municipal waste management (IS) of landfills without energy recovery of the landfill gas, as well as the aerobic MBT have the highest environmental impacts. On the other hand, the lowest environmental impacts were found for the MBT biodrying IS. An overall assessment of this IS, both with and without the toxicity and ecotoxicity impact category pollutants and emissions indicators, were compared.
Conclusions
A comparison of the environmental impacts of IS landfills to the other IS categories should be made, using both a detailed and long-term inventory. Further, this should also include the closures of the landfill sites, as well as all of the future environmental impacts. It would also be appropriate to include several additional aspects (such as social, technical, and economic factors) for a fully objective assessment and in making the optimal choice of an IS.