2018 | OriginalPaper | Buchkapitel
Mixed Problem for Laplace's Equation in an Arbitrary Circular Multiply Connected Domain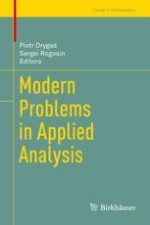 Erstes Kapitel lesen
Autor: Vladimir Mityushev
Abstract
Mixed boundary value problems for the two-dimensional Laplace's equation in a domain
D
are reduced to the Riemann-Hilbert problem Re
\(\overline {\lambda (t)}\psi (t) = 0\)
,
t
 ∈ 
∂D
, with a given Hölder continuous function
λ
(
t
) on
∂D
except at a finite number of points where a one-sided discontinuity is admitted. The celebrated Keldysh-Sedov formulae were used to solve such a problem for a simply connected domain. In this paper, a method of functional equations is developed to mixed problems for multiply connected domains. For definiteness, we discuss a problem having applications in composites with a discontinuous coefficient
λ
(
t
) on one of the boundary components. It is assumed that the domain
D
is a canonical domain, the lower half-plane with circular holes. A constructive iterative algorithm to obtain an approximate solution in analytical form is developed in the form of an expansion in the radius of the holes.