2017 | OriginalPaper | Buchkapitel
Mobile and Area Sources of Greenhouse Gases and Abatement Strategies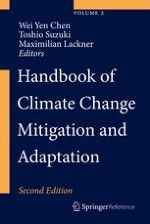 Erstes Kapitel lesen
Autor: Waheed Uddin
Abstract
This chapter discusses mobile and area sources of carbon dioxide (CO2) and other greenhouse gas (GHG) emissions. The CO2 emissions from mobile sources are accounted globally for 23 % of world energy-related GHG emissions in 2004. In the United States, the CO2 emissions in 2004 from mobile sources included 28 % of all anthropogenic GHG emissions, and the missions from mobile sources grew 29 % between 1990 and 2004. The CO2 emissions for several megacities, the carbon footprint expressed in CO2, and the CO2 per capita used as a sustainability scale are also reviewed. Traffic congestion and gridlock in most urban areas and cities have grown substantially worse over the years, causing commuters to waste millions of hours in traffic jams. The resulting vehicle emissions have adverse impacts on the environment, both in air quality degradation and increases in GHG. Examples are presented on contributions of built environment and transportation-related air pollution and GHG emissions from mobile sources, cities, and other populated areas.
The heat island effect causes an increase in surface temperature and air temperature in the built-up areas of a city. Urban sprawl and associated transportation-related emissions also tend to increase area temperature. An increase in air temperature results in a higher rate of photochemical reactions that form ground-level ozone and smog during hot summer days. Additionally, it requires extra electricity to cool down buildings in summer days, resulting in increased energy demands, larger air-conditioning bills, and elevated emissions of GHG and ozone precursors.
Sustainable multimodal transportation network and urban infrastructure facilities are warranted to support urban communities in view of the demand of energy, reduce public health hazards resulting from air pollution and urban smog, and mitigate adverse impacts of GHG emissions on the environment. Innovative geospatial applications of high-resolution satellite imageries are presented to estimate built-up area and traffic volume. Real-time intelligent transportation system technologies can also improve traffic flow, reduce congestion and air pollution, and decrease GHG emissions. Government agencies and cities worldwide can use CO2 emission per capita sustainability scale for evaluating effectiveness of sustainable transportation and development policies. Country laws and regulations to reduce transport-related emissions and international accords on global responsibility for CO2 reductions are reviewed.