22.09.2020 | Original Article | Ausgabe 4/2020 Open Access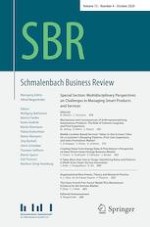 Mobile Location-Based Services' Value-in-Use in Inner Cities: Do a Customer's Shopping Patterns, Prior User Experience, and Sales Promotions Matter?
Zeitschrift:
Autoren:

Stephanie Schwipper, Severine Peche, Gertrud Schmitz
Wichtige Hinweise
Electronic supplementary material
Publisher's Note
Springer Nature remains neutral with regard to jurisdictional claims in published maps and institutional affiliations.
1

Introduction

To address this gap, the current study explores whether mobile LBS' value-in-use in an inner city depends on customers' shopping patterns during inner-city shopping trips as well as their user experience. Furthermore, this study examines the potential of the transmission of relevant information and offers to manage mobile LBS' value-in-use in inner cities. Therefore, this study has five main objectives: The first objective is the identification of relevant value-in-use components of mobile LBS in inner cities and inner-city shopping patterns. The second objective is to validate the conceptualization of value-in-use empirically and to determine the influence of user experience on value assessment. The third objective is the empirically comparison of mobile LBS' value-in-use in inner cities for different shopping patterns. The fourth objective is to empirically evaluate the adequacy of relevant transmitted offers as a possibility to manage the mobile LBS' value-in-use. The final objective is the derivation of managerial implications for the application and management of mobile LBS in inner cities.

The paper is structured as follows: Based on a brief overview of existing research regarding value-in-use and mobile LBS, we develop a conceptualization of mobile LBS' value-in-use in inner cities. Within this discussion, the temporally dynamic nature of value-in-use is emphasized, and the assumed moderation by customers' user experience is argued. This is followed by an identification of relevant shopping patterns as a possible context-specific factor of value-in-use evaluations based on existing literature. The number and type of transmitted offers are then discussed as a possible value driver. Afterward, the results of our empirical study are presented. The paper concludes with a discussion of our results and their managerial implications, followed by the study's limitations and suggestions for future research.
4

Discussion and Implications

To address the context-dependency of value-in-use, seven shopping patterns were identified that can occur during an inner-city visit, depending on the respective objective. Based on the shopping motivation and the motives identified in this research area, the shopping patterns derived here represent combinations of similar motives that all follow the same goal. All seven shopping patterns were observed in our study, with experience shopping, inner-city service usage, and situation-specific shopping being the most common, followed by bargain hunting, social shopping, habitual shopping, and convenience shopping. Also, in view of the sample sizes, the four shopping patterns of experience shopping, situation-specific shopping, bargain hunting, and inner-city service usage were examined in depth using fsQCA.

The findings from our fsQCA showed that even though the results for each of the four shopping patterns and both outcomes displayed different sufficient paths, some combinations of core conditions between the shopping patterns overlapped. Therefore, the results point out several similarities between shopping patterns, especially regarding paths with high empirical relevance for their respective outcomes. Consequently, the findings indicated that customers' shopping patterns influence the evaluation of the usage of a mobile LBS app somewhat in inner cities as a context factor; however, according to our data, its impact is not as differentiated as expected. Thus, a certain degree of generalization of the value-in-use conceptualization of shopping patterns can be shown, which is a relevant result for research and management, even if it contradicts the underlying assumption of the study. However, the fsQCA also disclosed shopping pattern-specific findings, which leads to the conclusion that all seven value-in-use components are relevant for all shopping patterns, despite the fact that they have different effects on generating high and avoiding low value-in-use. A possible explanation for this result could be that the multifunctionality of mobile LBS has features for a wide range of usage situations and objectives, which is why mobile LBS usage creates a basic benefit independent of specific goals.
5

Limitations and Future Research

While our study contributes to the research on value-in-use, it also has limitations that offer avenues for future research.

First

, our study was based on a sample of business students, which limited its findings to this age group; therefore, it is not representative. Additionally, the students in our sample were first-time users who used the presented mobile LBS during a two-month period. Consequently, our results were limited to the experiences of the early usage phase, which is why no statements could be made about the customers' evaluation of long-term use whereby mobile LBS use is entirely integrated into the customers' use processes. In order to gain further insights into the temporally dynamic nature of value assessment, a longer-term measurement of value-in-use in further service events is necessary. Such research could, for example, investigate whether the increasing influence of fun benefits continues to rise over time or whether this influence will be stable from a particular point in time or even decrease. Therefore, future researchers should test our proposed conceptualization in a broader setting and record long-term data to discover possible changes in value-in-use evaluations over the long term. Nevertheless, the available data can be used for further analyses that take greater advantage of the longitudinal nature of our data set. For example, multi-level modeling could be used to include intra-subject as well as inter-subject differences, and thus consider the nested structure of the data at the two levels of customer and time (Hoffman

2015

). Moreover, only evaluations for inner-city trips actively started by the customers were collected during this field study, which excluded other usage situations with the mobile LBS. Since the value-in-use perceived by the customer is also relevant in other usage scenarios, such as obtaining information at home using the information provided by the mobile LBS, it is necessary to conduct further research in this area as well.

Second

, self-selection bias in this study was probable, as the students were invited to participate. Thus, our study was limited in that participants had a positive attitude toward the use of the LBS app, and the results of this study should only be interpreted for actual users. The value perceptions of people who refuse to use the app on principle may differ. Further research should, therefore, focus on the differences in value-in-use assessment between users and non-users. It would be interesting to investigate the extent to which value-in-use differs from the envisioned value-in-use. Such a study could also examine the extent to which privacy concerns act as a knock-out criterion for actual use. There is also the possibility that a particular social desirability bias exists in our study, as the participants knew that the mobile LBS was developed at their university. However, both positive and negative assessments and comments regarding usage of the app were given; thus, we presume that this bias was not too strong. Since our study was based on a prototype of a mobile LBS, application of the value-in-use conceptualization presented here in another research setting with an already established app would be desirable.

Third

, we did not have any control over the content and design of the offers that our participants received; therefore, perceptions of monetary benefits may have been lower, as retailers might not have targeted student participants with their offers, even though existing research has shown that an offer's tailored content is an important driver of attitude toward and redemption intentions of LBA (e.g., Martins et al.

2019

; Bauer and Strauss

2016

; Lin et al.

2013

). Also, we approximated the relevance of an offer by the customer actively clicking on that offer. It cannot be guaranteed that some offers were viewed for other reasons and were, therefore, not directly relevant to the customers. Furthermore, our results regarding the type and number of transmitted offers were limited to the relevant offers. However, as current research shows, the risk of information overload and the fear of spam is relevant to the LBA context (e.g., Swar et al.

2017

; Im and Ha

2015

; Achadinha et al.

2014

; Dickinger and Kleijnen

2008

). Thus, further research is needed that examines the impact of the type and number of irrelevant offers that are made. Other drivers related to these offers should also be investigated.

Fourth

, we had to exclude 37.5% of the data sets as part of the data cleansing process because they were incorrect or incomplete (25.74%), the evaluations could not be assigned to a trip (6.94%), or the trips were shorter than ten minutes or longer than ten hours (4.85%). This high proportion of exclusions in the context of data cleansing was mainly due to the field study setting, despite leading to an improvement in the external validity of the results. Unfortunately, potential value-in-use assessments at various service events were lost through this data cleansing, which probably contributed to the results. They way in which positive and negative value assessments were distributed in these trips cannot be sufficiently clarified, which is why there is a principle risk that negative assessments were not fully included in the analysis due to technical problems with the mobile LBS. Should this have happened, the estimated path coefficients would have potentially been somewhat overestimated, which is why replication of the results of our study might be necessary. On the other hand, the inclusion of inaccurate data, which may not represent the actual value-in-use assessment during mobile LBS use on the trip in question, would also be a potential source of biased estimates, which justifies the exclusion from our point of view.

Fifth

, even though all seven shopping patterns occurred in the trips, the sub-sample sizes of the patterns of social shopping, habitual shopping, and convenience shopping, as mention above, were too small to be included in the fsQCA analysis. Thus, shopping pattern-specific findings were limited to the other four shopping patterns, making further research necessary. Further studies could analyze goal-oriented shopping patterns as they relate to value-in-use in more detail and thus expand the findings presented in this study. In particular, the connection between specific sub-functions of the mobile LBS and the focal goals of the respective shopping patterns could be examined in a future study based on our findings. Notably, another research gap exists in this context concerning the influence of the interaction between shopping patterns and goal-congruent offers, which are provided through the mobile LBS during trips, on the value-in-use perceived by the customer.

Sixth

, six positive and one negative value-in-use components were identified in our value-in-use conceptualization. However, other components of value-in-use exist, especially concerning the perceived drawbacks of use. A higher-order construct could provide further insights by deepening the understanding of the different facets of the more abstract value-in-use components presented here.

Seventh

, to minimize privacy concerns and increase customers' willingness to participate, it was decided that as little personal data as possible would be collected from the participants. Furthermore, we have no reliable data on actual redemptions of offers displayed on our participants' devices and are therefore unable to link actual value-in-use evaluations of the app during specific shopping trips to users' behavior. Further research in this area could investigate the influence of a positive mobile LBS' value-in-use on retailer-relevant variables, such as visit frequency and sales volume.

Lastly

, our study focused on users of a mobile LBS during inner-city visits as one actor in a service ecosystem comprised of several actors whose contributions are crucial to users' value-in-use assessment. Adjacent to app users and app providers, inner-city retailers, inner-city service providers, and even city marketing must cooperate to provide users with relevant and valuable app content (Bartelheimer et al.

2018

). While an app provider must ensure the app's technical functionality as well as provide an IT environment for inner-city retailers and service providers, retailers and service providers need to contribute to the information (e.g., describing the app, discussing details about its offerings, offering coupons, etc.) and other content visible to the app's users (Bartelheimer et al.

2018

). Therefore, the app provider supplies the resources that retailers and service providers can use to increase their own visibility for app users and achieve advantages over online retailers. This view is consistent with the service-ecosystem perspective, which goes beyond dyadic interactions to instead take a broader approach entailing multiple actors (Frow and Payne

2019

; Bartelheimer et al.

2018

; Betzing et al.

2018

; Becker et al.

2019

). Therefore, future research should focus on the service ecosystem as a whole and its impact on users' value-in-use evaluations (Frow and Payne

2019

), as this would advance research on (digital) service ecosystems.
Acknowledgements
This paper was developed in the research project smartmarket
2
(
www.​smartmarketsquar​e.​de
), which is funded by the German Federal Ministry of Education and Research (BMBF), promotion sign 02K15A073-02K15A074. The authors thank the Project Management Agency Karlsruhe (PTKA). We also wish to thank all project partners who contributed to the success of the research project. In particular, we would like to thank the Chair of Business Information Systems, Paderborn University and the European Research Center for Information Systems, University of Muenster, for excellent cooperation in the project and during the field study.
Open Access
This article is licensed under a Creative Commons Attribution 4.0 International License, which permits use, sharing, adaptation, distribution and reproduction in any medium or format, as long as you give appropriate credit to the original author(s) and the source, provide a link to the Creative Commons licence, and indicate if changes were made. The images or other third party material in this article are included in the article's Creative Commons licence, unless indicated otherwise in a credit line to the material. If material is not included in the article's Creative Commons licence and your intended use is not permitted by statutory regulation or exceeds the permitted use, you will need to obtain permission directly from the copyright holder. To view a copy of this licence, visit
http://​creativecommons.​org/​licenses/​by/​4.​0/​
.
Publisher's Note
Springer Nature remains neutral with regard to jurisdictional claims in published maps and institutional affiliations.