01.08.2014 | Long paper | Ausgabe 3/2014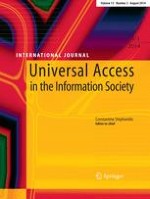 Mobile text-entry and visual demands: reusing and optimizing current solutions
Zeitschrift:
Autoren:

Hugo Nicolau, Tiago Guerreiro, David Lucas, Joaquim Jorge
Abstract
Mobile devices are increasingly used for text-entry in contexts where visual attention is fragmented and graphical information is inadequate, yet the current solutions to typing on virtual keyboards make it a visually demanding task. This work looks at assistive technologies and interface attributes as tools to ease the task. Two within-subject experiments were performed with 23 and 17 participants, respectively. The first experiment aimed to understand how walking affected text-entry performance and additionally to assess how effective assistive technologies can be in mobile contexts. In the second experiment, adaptive keyboards featuring character prediction and pre-attentive attributes to ease visual demands of text-entry interfaces were developed and evaluated. It has been found that both text-input speed and overall quality are affected in mobile situations. Contrary to the expectations, assistive technologies proved ineffective with visual feedback. The second experiment showed that pre-attentive attributes do not affect users' performance in task-entry tasks, even though a 3.3–4.3 % decrease in
error rates
was measured. It was found that users reduce walking speed to compensate for challenges placed by mobile text-entry. Caution should be exercised when transferring assistive technologies to mobile contexts, since they need adaptations to address mobile users' needs. Also, while pre-attentive attributes seemingly have no effect on experienced QWERTY typists' performance, they showed promise for both novice users and typists in attention-demanding contexts.