09.06.2016 | Special Issue Paper | Ausgabe 3/2017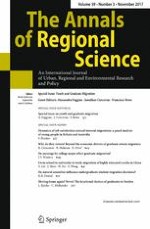 Mobility, education and labor market outcomes for U.S. graduates: Is selectivity important?
Zeitschrift:
Autoren:

Pantelis Kazakis, Alessandra Faggian
Wichtige Hinweise
We are indebted to the National Science Foundation and specifically the National Center for Science and Engineering Statistics for providing the SESTAT data. They bear no responsibility for the analysis conducted or interpretation of the data. All remaining errors are ours.
Abstract
The literature on human capital, and its positive effects on individuals and regional economies, is now vast. The linkages between human capital and migration have also found a fertile ground in recent years especially in Europe where many studies have focused on interregional migration of graduates and highly skilled individuals. However, the literature on this phenomenon in the USA is less developed. Using the SESTAT database from NSF, this paper aims at contributing to the understanding of inter-state migration behavior of graduates in the USA and its effects on their career outcomes. It builds on the existing literature not only by focusing specifically on the US context, but also incorporating into the empirical model a correction for the possible selection bias that arises from the dual relationship between migration propensity and human capital endowment. Our estimated Mincerian earning equations, corrected for migrant self-selectivity, show that indeed repeat migration is associated with higher average salaries, while late migration is associated with a salary penalty. As for the other control variables, our results are consistent with what has been found in the labor economics literature. Female workers suffer from a salary penalty, while experience, level of education and employer size are all associated with higher average salaries. The labor market also rewards different fields of study differently.